We Offers Commercial Plumbing Maintenance & Repair
While similar in nature to residential plumbing, commercial plumbing is on a larger scale. It involves the installation and maintenance of water supply and potential waste systems for larger entities including businesses and commercial premises. Such work can be complicated which require expert diagnosis and repairs to prevent contamination of water supply and drainage systems. Commercial plumbing requires application of all the appropriate safety measures including meeting health codes and regulations for commercial establishments.
Key Benefit of Service
Our maintenance service ensures commercial plumbing systems work at optimum efficiency all the time and we are responsive to all 24-hours emergency call out. We take pride in the work we perform with our dedicated plumbers.
Locally Own Operated
Workmanship guaranteed
Bonded and insured team
Licensed plumbing experts
Upfront, Flat Rate Pricing
Friendly, professionals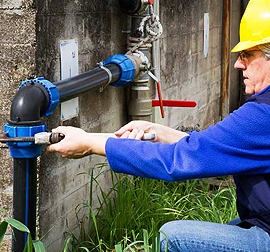 Get A Free Estimate
We are more than happy to give advice on which solution is most suitable for your needs, depending on your Plumbing Services. Why not ask us to view your property and discuss the various options with you now. Our advice is free!