Gas Line Installation and Repairing
The use of home gas appliances require gas lines connected to the main gas supply pipe. It is critical to ensure any gas line installation or repair is completed safely and securely to protect your home. Installation can be for a new oven and cooktop, an outdoor barbecue, an indoor gas stove, or as part of a gas furnace. Gas lines must also be maintained carefully so that it may be utilised safely and efficiently.
If you smell gas, leave the promises and call the relevant authorities. Gas plumbing repairs must be done immediately to eliminate any risk of poisoning or explosions.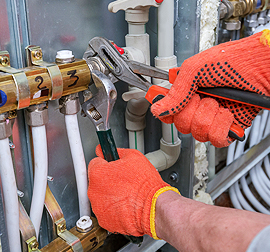 Key Benefit of Service
At Freeflo, we specialise in services for gas lines in Perth including installation and repair. We take pride in the work we perform with our dedicated plumbers.
Locally Own Operated
Workmanship guaranteed
Bonded and insured team
Licensed plumbing experts
Upfront, Flat Rate Pricing
Friendly, professionals
Get A Free Estimate
We are more than happy to give advice on which solution is most suitable for your needs, depending on your Plumbing Services. Why not ask us to view your property and discuss the various options with you now. Our advice is free!